News, Stories & Photos
KAREN V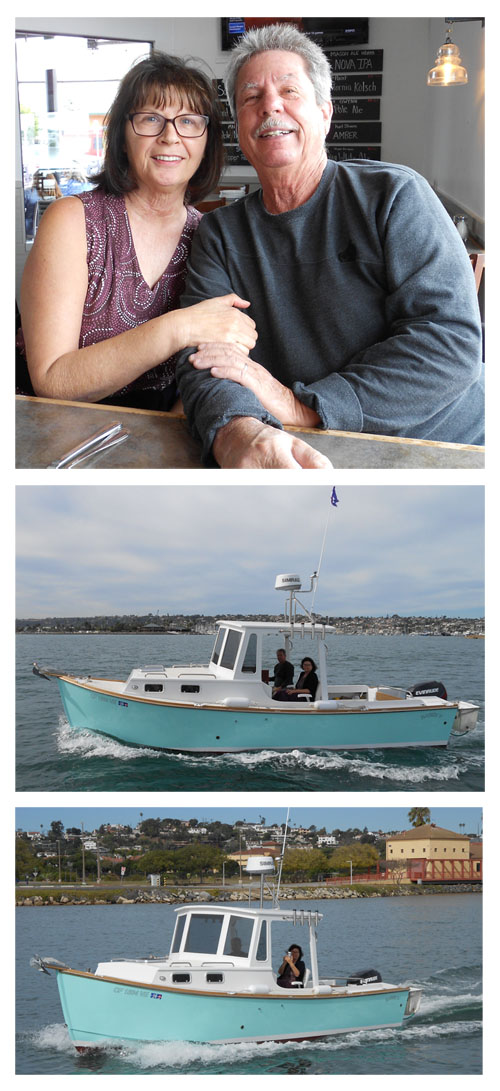 This is Alan Nephew and his wife Karen, for whom he named his Jiffy V-22.

He writes, "Arch, it is done, and we are now fishing it. I have had many boat over my life time – by far this is the best. Fully loaded with radar, auto pilot, down scan and side scan sonar, 50 gal. fuel, four T 105 Trojan 130 amp batteries." The motor is a 115 HP Evinrude giving 15 knots at 3200 RPM, 18 knots at 3600 RPM, and 26 knots at full throttle. Alan reports a fuel consumption at cruising speed of 3.7 gal/hr.

"I made little changes to your original plan – I located the water closet on the starboard side with through hull pump out capability and I doubled the side cockpit comings to 1" thickness. The boat is in a slip here in San Diego. People who come by just want to know more about the boat and the build. Thanks Arch for your support."

Alan's friend David Titus took the photos.

November 16, 2017.





An Enjoyable Project.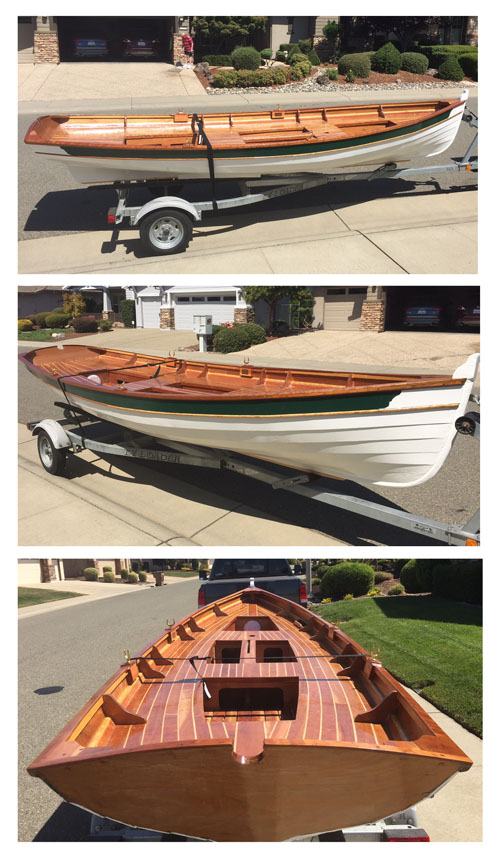 Jeff Johns, of Lincoln, CA sent these photos of his Penobscot 17.

He writes, "This boat building project has been one of the most enjoyable things I have ever done. I first questioned my ability to accomplish the task, but dove in anyhow. The plans were clear and the full size sheets made it very easy to transfer the lines on to the lumber. The manual was well written and easy to follow and the big part of this was the quick responses I got back from you to my questions. Of course I made mistakes, but I was always able to work my way out of them. Like my old Jr. High woodshop teacher told me: 'There is always more ways to skin a cat'.

My woodworking skills have improved immensely during the build including using the hand plane effectively."

As you can see, Jeff's skills obviously were equal to the job. Congratulations, Jeff.

November 10, 2017.





SWEET DREAMS and ST JACQUES.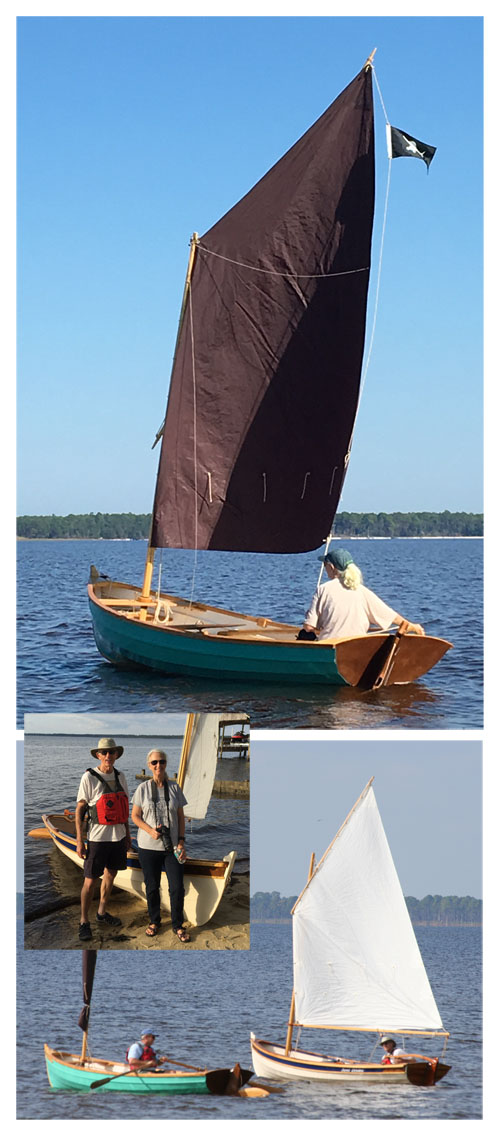 Kent Lewis sent some more photos of his Penobscot 14 ST. JACQUES, here in company with SWEET DREAMS, built by John Stevenson. Two beautiful boats!

November 10, 2017.





A Penobscot 14 in Australia.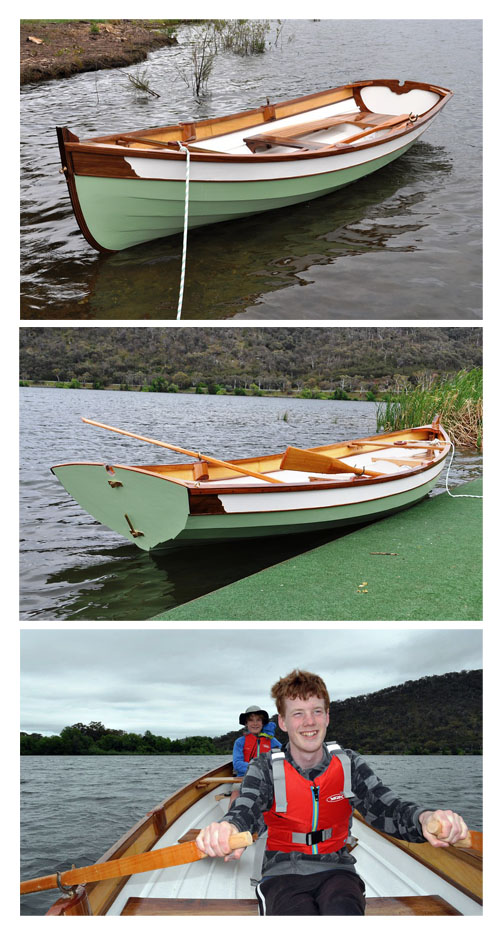 These photos from Mark Wetherspoon, who writes, "I bought plans from you around three years ago for the 14. After just under two years of building I launched it yesterday on Lake Burley Griffin in Canberra Australia. I have yet to try the standing lug rig but my first impression is it is a beautiful rowing boat. It was very windy and cold but even into the breeze the boat felt effortless and my boys could even get a good bit of steam up.

Timber is a mix of Australian hard and softwoods. Tasmanian Blackwood for the keel, stringers, seats and rail capping. Queensland silky Oak for the deadwood and side seats. Sydney Blue Gum for the rowlock pads. Golden cypress for the quarter knees and breasthook. The plywood for the hull is Hoop Pine. I also used Tasmanian Myrtle for the rudder housing.

It was a very well documented package you produce which a raw beginner loike me can bumble through whilst allowing for my own unique touches as my confidence grew. It is a very well balanced and beautiful design. Thank you.

Congratulations to Mark on a beautiful boat!

October 30, 2017.





Laughing Gull Kit.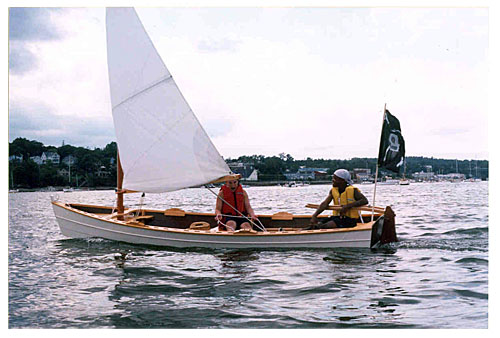 I currently have a Laughing Gull pre-cut kit available for immediate shipping. This is a kit that I have been holding for a builder of a Penobscot 13, who wanted to build the Laughing Gull for his grandchildren. Life has intervened, as it so often does with our best laid plans, and he now wants to sell the kit. If you are interested, call me at 207 930 9873, or send me an e-mail at archdavis@myfairpoint.net.

September 13, 2017.





Wooden Boat School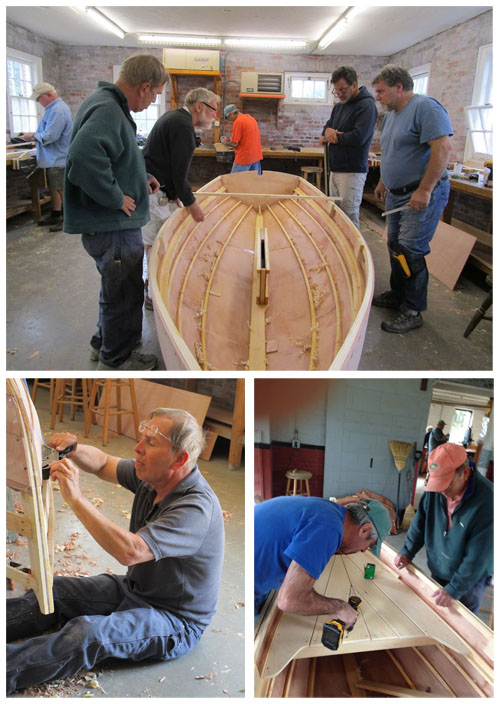 I had another great two weeks at the Wooden Boat School in Brooklin, Maine. With 11 students in my class, we built two Penobscot 13s. At the end of the course both boats were almost ready for painting – a power cut on the last afternoon, held us back a little. The two boats are going to good homes with enthusiastic builders who will complete them. Now I have to catch up on all the work that has accumulated while I was away. Summer is almost over, but we are enjoying some beautiful weather here in Maine (doesn't seem quite fair, with hurricanes hitting the South). If you missed this year's class, keep an eye on my web site, or the Wooden Boat School site, for dates for next year's class.

As always, I had a great time. The staff at the school are wonderful, the food great, and the waterfront spectacular, with opportunities for taking out boats from the school's fleet. All my students told me how much they enjoyed their time and the school, and how much they learned. Come next summer – you won't be sorry!

September 13, 2013.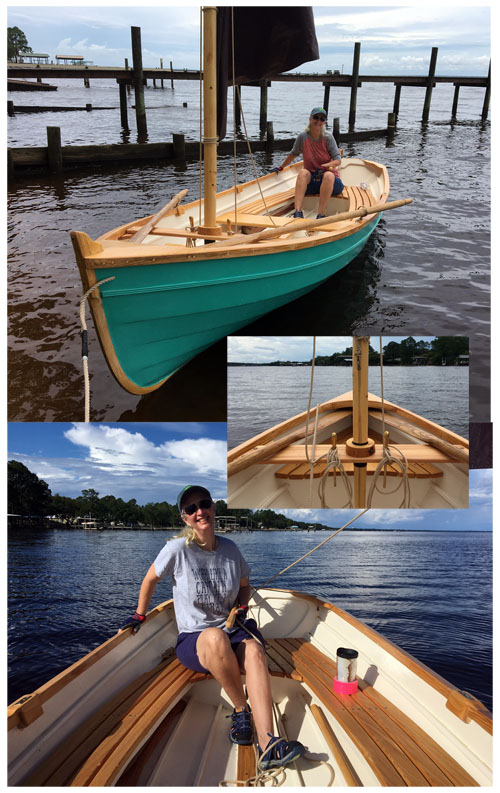 Kent and Audrey Lewis sent these photos. Kent writes, "We built our Penobscot 14 St. Jacques for use in our local bays and rivers. We used okoume, white oak for the keel and cypress for the seats, gunwales and spars. She is finished with Pettit EZPoxy Sea Foam Green, Rustoleum Marine Oyster White and TotalBoat Gleam Marine Spar Varnish. Gudgeon. Belay pins were crafted at Port Townsend Foundry and the rigging is New England Rope Vintage StaSet. Sailrite provided the tanbark sail kit. The sprit rig is easy to handle and we row home with vintage longleaf pine oars when the wind drops. Thanks Arch for all of the help!

" Another trick we added was a tilt tiller, I cut the inner piece shorter and rounded the end, then trimmed a bit off of the tiller shoulder and rudder head. The tiller is held in place by a vintage Sunfish rudder hinge pin. It raises enough so we can duck under it when tacking and slide around on our horseshoe seat."

You can see a video of their first sail here: https://youtu.be/AgXc0tgF30o

Congratulations Kent and Audrey.

July 19, 2017.





La Serenita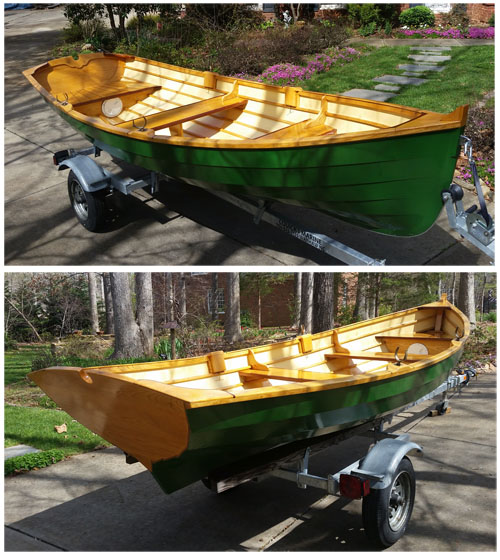 These photos come from P. Michael Jordan of Waxhaw, NC. He writes, "I attended John Brook's class for glued lapstrake boats at the WoodenBoat School in 2006 with my son. Then I felled a couple of ash trees on a friend's farm to get started. I used the ash for the thwarts, bulkheads, transom, stringers and keelson. I used okume plywood for the strakes and sappele for the fancy trim, accents and the keel. I painted the outside and interior with Epifanes yatch enamel and clear varnish. I purchased 4 oarlocks and oars from Shaw & Tenney and added an aluminum strip down the keel since I have to trailer it often.

"Nine years after laying the building jig I finally got my boat wet as life happened during the build. The kids grew up then went off to college and I now have the perfect exercise machine with the best views in the world. My wife and I named her La Serenita which is Italian for 'the serenity'. We can be found rowing on Lake Wylie, Lake Norman or any other body of water between the Atlantic coast and eastern Tennessee. I kept the boat simple as I'm too tall to sail a 14' boat and wanted a means to exercise and get out on the water. I kept friends and family up with the build process on Facebook under the name of Datsa Myboata, which was the punch line for a joke my dad used to share.

"Now I am constantly asking myself when am I going to build another one. I have become addicted to making sawdust and constructing beautifully curved wooden surfaces that glide effortlessly through blue waters.

"Thanks for listening and for a beautiful row boat design."

April 2, 2017.





Back on Deck.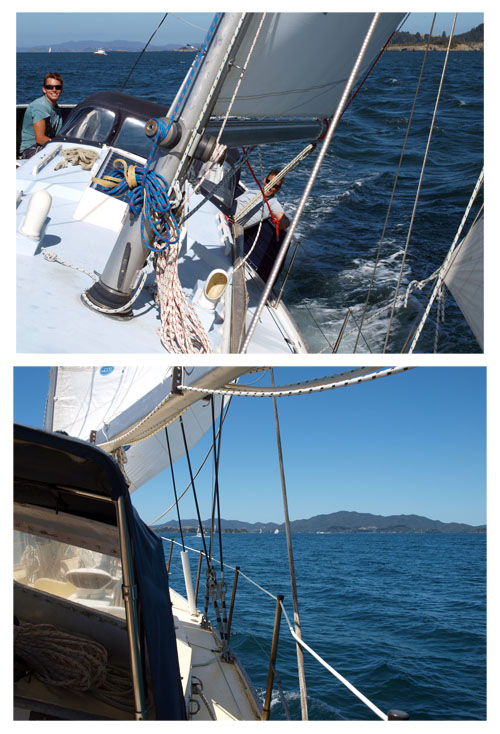 After a great holiday in New Zealand it's time to get back to work!

My wife and I had a great time catching up with family and friends. We had good weather most of the time. I was able to go sailing in the MARISA (top), a boat I built in New Zealand years ago, in the Bay of Islands. Owner Paul Donahue and his son Shea took me out to Cape Brett on a beautiful day, then I got to sail around the bay with my old friend Rex Underwood in PANINA (bottom), the boat he built for himself. It was a great thrill to re-visit these familiar waters. The Bay of Islands is one of the most beautiful parts of the the north eastern coast of the North Island, truly one of the great cruising areas of the world. We had sunshine, light breezes, clear blue water, and white sandy beaches. If you are a sailor, I can promise that you will find the long trip to this remote part of the world very much worth while.

Now we are back to cold and snow! But the days are getting longer, and spring isn't too far off. Soon we will be getting the GRACE EILEEN ready for another season.

February 22, 2017.





A Penobscot 14 in Australia.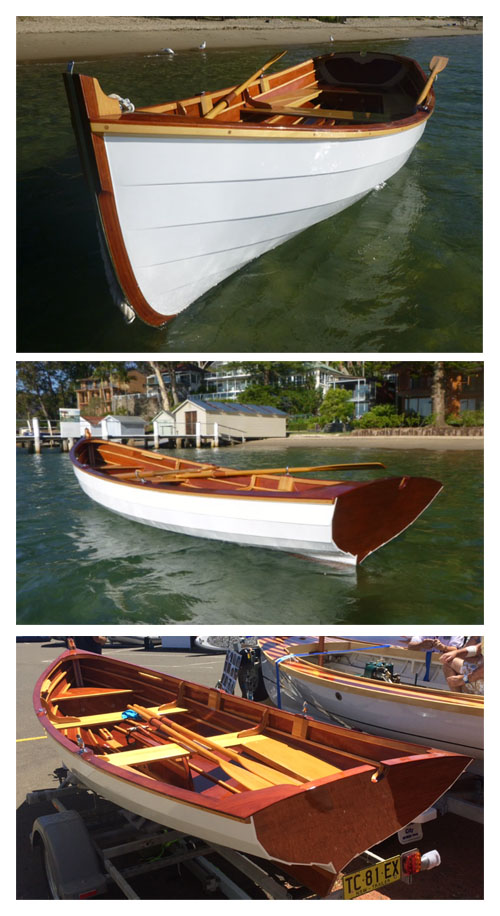 These photos came from Tim Calleia, in Australia. He writes, "Finally got the boat wet the other day! Had her displayed in the local yearly boat show before the unofficial launch and received many compliments on the build and your beautiful design. I am also taking her to Tasmania in February for display at the Wooden Boat Festival.

"Your Penobscot 14 rows very nicely, even in reverse thanks to her raked transom. Her full length 1 inch deadwood keel gives the boat amazing resistance against sideways forces, also adds great strength to the boat. The offset centre board keeps the sand out when dragging up the beach too! Great design work Arch! Thanks again for your great design."

November 10, 2016.





If you would like to see your boat featured here, send photos and a description of your project to Arch Davis Design, 37 Doak Road, Belfast, ME 04915. We would love to see them - we are always looking for good picture of boats under way!

All plans from Arch Davis Design are backed by a free advisory service. If you have a question or a problem when you are building your Arch Davis designed boat, call 207-930-9873 between 10:00 am and 4:00 pm, including weekends, for advice from the designer.