News, Stories & Photos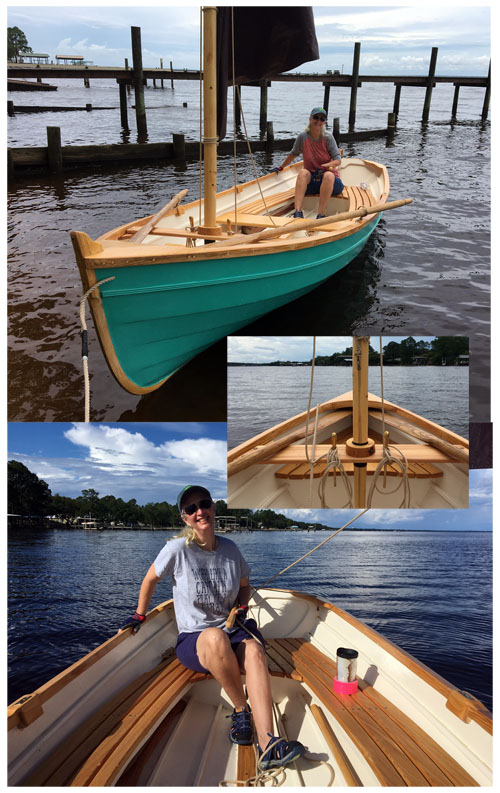 Kent and Audrey Lewis sent these photos. Kent writes, "We built our Penobscot 14 St. Jacques for use in our local bays and rivers. We used okoume, white oak for the keel and cypress for the seats, gunwales and spars. She is finished with Pettit EZPoxy Sea Foam Green, Rustoleum Marine Oyster White and TotalBoat Gleam Marine Spar Varnish. Gudgeon. Belay pins were crafted at Port Townsend Foundry and the rigging is New England Rope Vintage StaSet. Sailrite provided the tanbark sail kit. The sprit rig is easy to handle and we row home with vintage longleaf pine oars when the wind drops. Thanks Arch for all of the help!

" Another trick we added was a tilt tiller, I cut the inner piece shorter and rounded the end, then trimmed a bit off of the tiller shoulder and rudder head. The tiller is held in place by a vintage Sunfish rudder hinge pin. It raises enough so we can duck under it when tacking and slide around on our horseshoe seat."

You can see a video of their first sail here: https://youtu.be/AgXc0tgF30o

Congratulations Kent and Audrey.

July 19, 2017.





Jiffy V-22 For Sale.
Lili is a Jiffy V-22 built by John Edwards, of . Surry, Maine. She was launched July 13, 2015. Overall length is 22'6" and the beam is 8'6".

Built with a marine plywood hull, covered with fiberglass cloth and West System epoxy resin, she features substantial mahogany brightwork for the desirable "retro" look. She is powered by a 115 hp Suzuki motor, and has been maintained since new by Lake and Sea Boatworks, Bar Harbor, Maine. Lili sits on a 4-wheel LoadRite bunk trailer, with fewer than 100 miles on the road.

The wheelhouse features two fully adjustable Todd "Cape May" captain's chairs and a custom-built mahogany bench across the boat aft…with ample room for several folding deck chairs. The cabin has an Ipe wood sole, and is nicely painted and ready for outfitting to buyer's specifications-- galley, head, bunks etc.

The electrical system is on a circuit breaker panel. Boat has an automatic bilge pump, VHF marine radio, Garmin EchoMap 50S chartplotter, compass, trim tabs and assisted steering. She comes equipped with anchor and rode, fenders, dock lines, a photo book illustrating the build process, etc.

This like-new boat (fewer than 20 hours operating time) is being sold due to the owner's relocation, and is available for inspection in Surry, Maine.

You can contact John at 512-574-5005 or jiffyv22@gmail.com

June 12, 2017.





La Serenita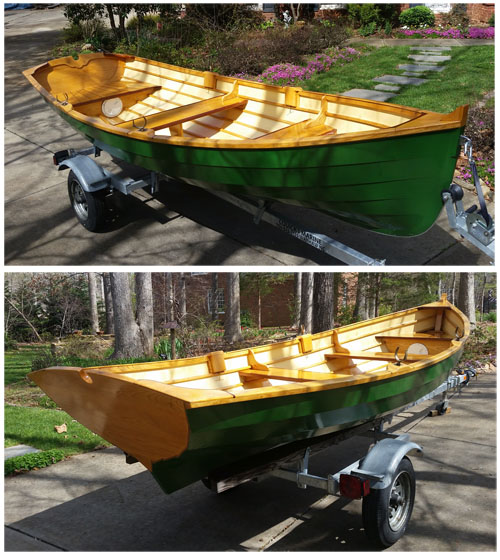 These photos come from P. Michael Jordan of Waxhaw, NC. He writes, "I attended John Brook's class for glued lapstrake boats at the WoodenBoat School in 2006 with my son. Then I felled a couple of ash trees on a friend's farm to get started. I used the ash for the thwarts, bulkheads, transom, stringers and keelson. I used okume plywood for the strakes and sappele for the fancy trim, accents and the keel. I painted the outside and interior with Epifanes yatch enamel and clear varnish. I purchased 4 oarlocks and oars from Shaw & Tenney and added an aluminum strip down the keel since I have to trailer it often.

"Nine years after laying the building jig I finally got my boat wet as life happened during the build. The kids grew up then went off to college and I now have the perfect exercise machine with the best views in the world. My wife and I named her La Serenita which is Italian for 'the serenity'. We can be found rowing on Lake Wylie, Lake Norman or any other body of water between the Atlantic coast and eastern Tennessee. I kept the boat simple as I'm too tall to sail a 14' boat and wanted a means to exercise and get out on the water. I kept friends and family up with the build process on Facebook under the name of Datsa Myboata, which was the punch line for a joke my dad used to share.

"Now I am constantly asking myself when am I going to build another one. I have become addicted to making sawdust and constructing beautifully curved wooden surfaces that glide effortlessly through blue waters.

"Thanks for listening and for a beautiful row boat design."

April 2, 2017.





Back on Deck.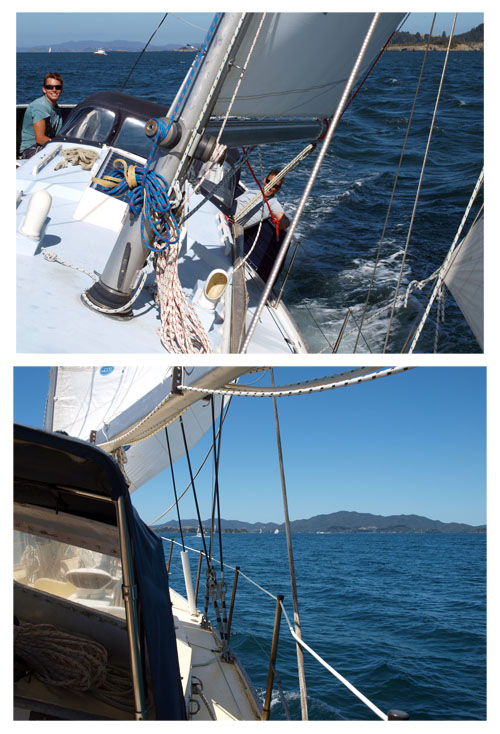 After a great holiday in New Zealand it's time to get back to work!

My wife and I had a great time catching up with family and friends. We had good weather most of the time. I was able to go sailing in the MARISA (top), a boat I built in New Zealand years ago, in the Bay of Islands. Owner Paul Donahue and his son Shea took me out to Cape Brett on a beautiful day, then I got to sail around the bay with my old friend Rex Underwood in PANINA (bottom), the boat he built for himself. It was a great thrill to re-visit these familiar waters. The Bay of Islands is one of the most beautiful parts of the the north eastern coast of the North Island, truly one of the great cruising areas of the world. We had sunshine, light breezes, clear blue water, and white sandy beaches. If you are a sailor, I can promise that you will find the long trip to this remote part of the world very much worth while.

Now we are back to cold and snow! But the days are getting longer, and spring isn't too far off. Soon we will be getting the GRACE EILEEN ready for another season.

February 22, 2017.





A Penobscot 14 in Australia.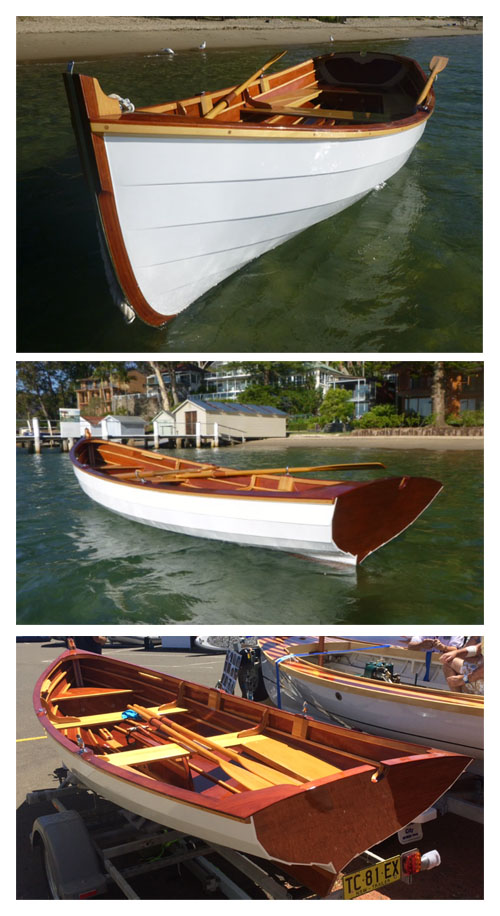 These photos came from Tim Calleia, in Australia. He writes, "Finally got the boat wet the other day! Had her displayed in the local yearly boat show before the unofficial launch and received many compliments on the build and your beautiful design. I am also taking her to Tasmania in February for display at the Wooden Boat Festival.

"Your Penobscot 14 rows very nicely, even in reverse thanks to her raked transom. Her full length 1 inch deadwood keel gives the boat amazing resistance against sideways forces, also adds great strength to the boat. The offset centre board keeps the sand out when dragging up the beach too! Great design work Arch! Thanks again for your great design."

November 10, 2016.





Woodwind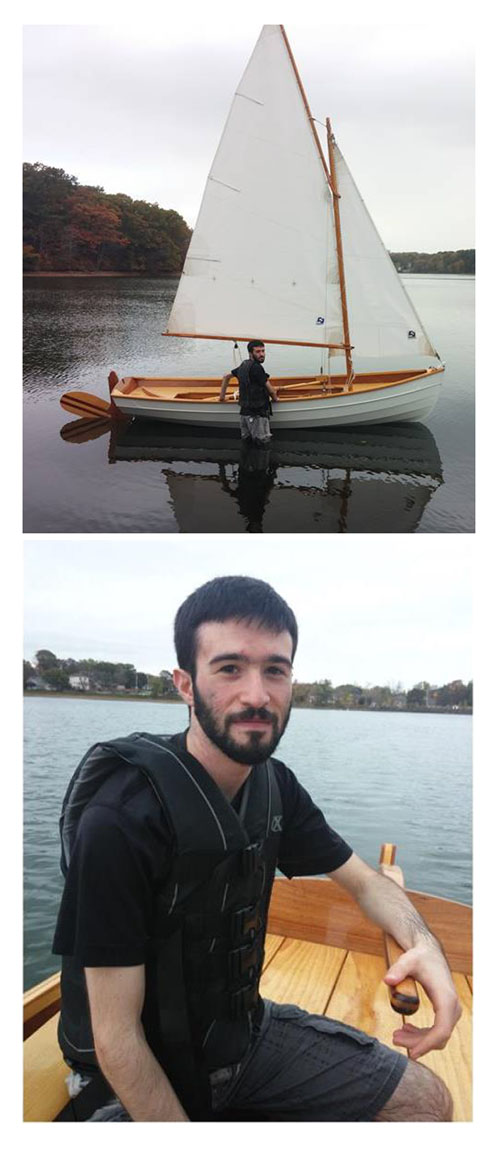 Mike Silver won one of the Penobscot 13s that we built at the Wooden Boat School in the summer of 2013. He took it home and finished it to a very high standard. He recently added a sailing rig. He comments, "This autumn has been very kind, and provided us with at least one last warm, windy day toward the end of October. Matan and I took the Woodwind out on Horn Pond in Woburn, Massachusetts. What a great experience! I never sailed a more well balanced boat. She stays on a heading at any tack with the lightest touch on the tiller, no need to hike out even in strong winds, and good speed even in light winds. The Woodwind is an absolute pleasure to sail."

That's Mike's son Matan at the helm, obviously having a good time !

October 28, 2016.





Eagle Scout Project.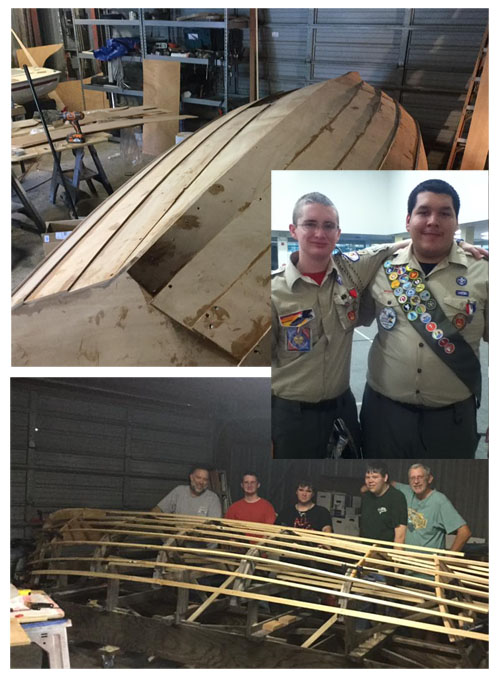 These photos show Brent Curry, and his Penobscot 14, which he is building as an Eagle Scout project. Brent is currently raising funds to complete the project. Here is what he has to say:

"My name is Brent Curry and I am a 17 years old and working on my Eagle Scout rank of the Boy Scouts of America. To achieve this, a scout must lead a project that benefits the community in some way. My project is to build the Penobscot 14 to be used as a teaching aid for underprivileged youths in the local Tampa Bay area, such as those in the foster system, to give them an experience they otherwise wouldn't have access to.

"When it comes to funding, my goal is to raise $3,300 for materials and hardware to construct it. Propective donors may go to the Facebook page and click the "Donate Now" button. This will take them to the GoFundMe page; or they can go directly to the GoFundMe page via the link. There are regular updates on the Facebook page if they would like to track my progress towards completion or follow up on their donation.

"Pictures of me can be found on the Facebook page, but attached is a picture (inset, on the left) of me in uniform at my friend's Eagle Court of Honor (the ceremony where the eagle rank is awarded). If anyone has any questions, they may contact me by sending a message to the Facebook page. Thank you again for all of your support."

Here is the link to Brent's Facebook page: https://www.facebook.com/BrentCurrysEagle/

Brent has evidently been making good progress – we wish him every success!

July 8, 2016.





Rebecca Restored.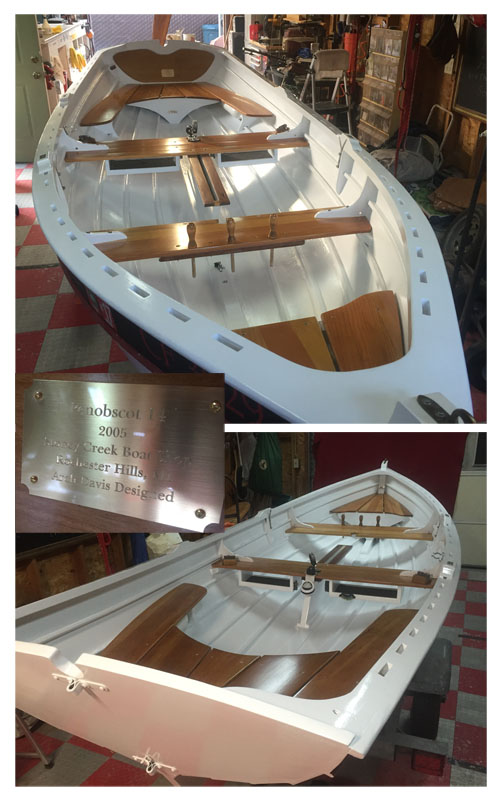 Phil Rushing, of San Diego, CA sent these pictures. He writes, "Good morning Arch! Thought you might appreciate some photos of my Penobscot 14 with a newly freshened up interior. She is named Rebecca after my late sister, with whom I shared some precious sailing moments. Just to refresh your memory, I bought this boat completed. I did not build her; that said, I have put a lot of work into her. She is now 11 years old and never had been repainted, so I decided to take on the project. I just finished stripping all white paint from thwarts and most interior wood and then stained/varnished. Then repainted rest of interior white. Looks beautiful to me if I don't say so myself! The hard part is done; now I just need to flip her and do exterior. Truly a labor of love!"

You may notice some departures from the original design in this boat, most notably the open gunwale, which makes is wider (more comfortable for hiking out, no doubt!), the shortened side seats, and fore and aft flotations compartments apparently replaced with flotation under the seats. The belaying pins for the halyards are a nice touch.

May 1, 2016.





A Penobscot 13 Completed.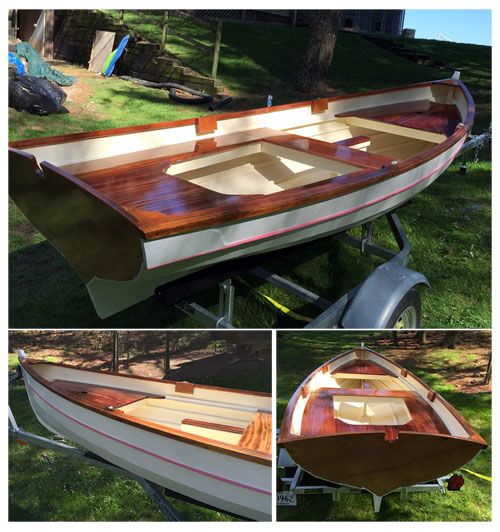 These photos came from Jim Chandler, of Roanake, VA. I asked him for his comments on his project – here is what he had to say: "I had an itch to build a boat for quite awhile, but since my carpentry experience included a birdhouse, I was intimidated and apprehensive. I read that over half of all boat kits go languishing unfinished; not giving me confidence! I looked at LOT of different plans from multiple designers before settling on Arch Davis' Penobscot 13. The video was indispensable, and not something that other designers offered. His help online or by phone was patient and always available. The prettiest boat that has instructions that are not easy to understand will indeed go unbuilt by the novice, likely condemning the builder to never try again. Rest assured: if you choose an Arch Davis Designs plan, not only will you get a beautiful boat, it will get built by you!"

Thanks for your kind comments, Jim!

April 28, 2016.





A Norwegian Tiller for the Eden Joy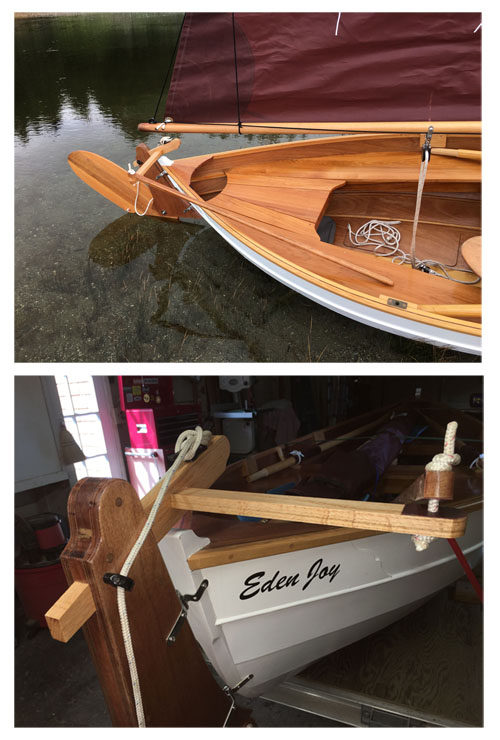 These photos and notes from Paul Gossard, of Eureka, California. He writes, "I love my Maine Peapod, but the conventional tiller has always been a bit of a problem for me. Since the boat is double ended I need to be pretty far forward to balance the boat properly and I found myself always stretching to reach the tiller. In addition, the conventional tiller made for very tight quarters in the stern of the boat. Here is a design for a push-pull, or Norwegian, tiller for the boat that works with the original rudder design.

"The tiller consists of three main parts: an extension that fits into the existing tiller slot on the rudder, a rudder arm, and a tiller stick. I constructed the extension and rudder arm from oak. Note that the rudder arm is mortised into the extension in such a way that it is on a level plane with the boat. The tiller stick is mahogany. The cleat on the top of the extension provides a tie-off for the line that secures the rudder blade in the up or down position. It also serves the purpose of locking the extension firmly to the rudder.

" The tiller stick is fastened to the rudder arm with a simple knotted length of rope. I glued small pieces of leather at the contact points between the wood pieces to provide some cushion and to prevent the wood pieces from scraping together.

" The new rudder took a while to get used to but after sailing in circles for an hour or so I got the hang of it, and it works great. I would definitely recommend trying it for the first time in calm and familiar conditions. Just remember- push to go to port, pull to go to starboard."

Thank you Paul for a great idea. I will add it to the plans!

April 13, 2016.





If you would like to see your boat featured here, send photos and a description of your project to Arch Davis Design, 37 Doak Road, Belfast, ME 04915. We would love to see them - we are always looking for good picture of boats under way!

All plans from Arch Davis Design are backed by a free advisory service. If you have a question or a problem when you are building your Arch Davis designed boat, call 207-930-9873 between 10:00 am and 4:00 pm, including weekends, for advice from the designer.