News, Stories & Photos
A Peapod, and Some Ideas.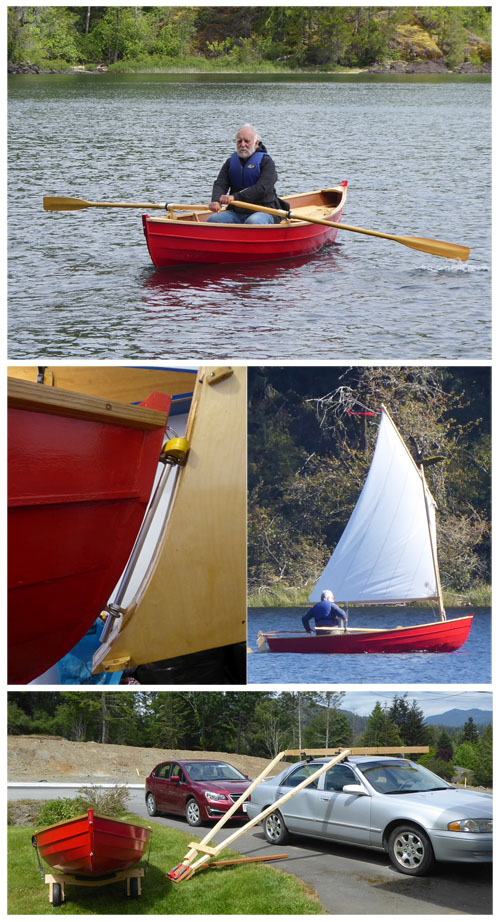 Andrew Legun sent these photos of his 12ft peapod, which incorporate some good ideas on hanging the rudder, and loading the boat onto his car. Gudgeons and pintles on a double ended boat with a curved after stem are a little problematic – the pintles have to line up in order for the rudder to be able to swing side to side. Andrew used an alternative method – an aluminum rod through pairs of strong screw eyes epoxied into the rudder and stem. The lower screw eye in the rudder is mounted on a wooden block to allow the rod to clear the stem.

To make loading the peapod onto his car easier, Andrew uses this arrangement. You can see a series of photos showing how it works (on a different boat) here: http://www.pbase.com/onceagain/ cartopper

He writes, "Here on Pacific coast I used locally available clear yellow cedar for stringers, mast, boom and yard. Having run out of expensive marine mahogany plywood I used slightly thicker and much cheaper baltic birch plywood (with epoxy coat) for the sides of the centreboard box and the rudder. The added stiffness seems an asset."

He comments that he has found the boat a little tender under sail, noting that there is a trade off between size and weight, and portability. He adds, "I think the row and sail aspects are close to optimal for a boat this size. It looks classy." It certainly does – and he has done a classy job with it!

September 26, 2018.





Back from Vacation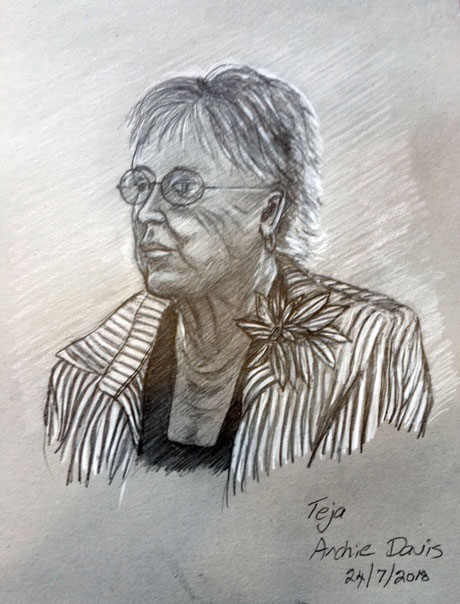 My wife and I have arrived back from our vacation in Slovenia, where she has family. I have caught up on orders and correspondence, and am ready to start on a Penobscot 13.

We had a great time – we spent the first two weeks in a language school, learning Slovene, then spent the last week with my wife's family, and being tourists. Slovene is a very difficult language, and I can never hope to be fluent, but I guess we made progress (they worked us very hard).

The drawing shows Teja Glažar, who is a famous (in Slovenia) actress in films and on television. She is distantly related to my wife, and we met her for coffee. My wife has a collection of old family photographs that she wanted to see. I did the drawing while she was talking to my wife and some other family members. It wasn't easy, as she was moving all the time and the lighting was also difficult, but I think the result is a reasonable likeness. Anyway, she liked it, and I gave it to her.

Unfortunately I missed an opportunity to meet with a Penobscot 14 builder, Aleš Verdir, in Piran, on the Slovenian coast, a few miles from where we were staying. I was not checking my e-mail while we were away, and I missed his invitation, which came after we had left. Next time, Aleš, if you are reading this!

Now it's back to work!

August 3, 2018.





Gajeta Falkusa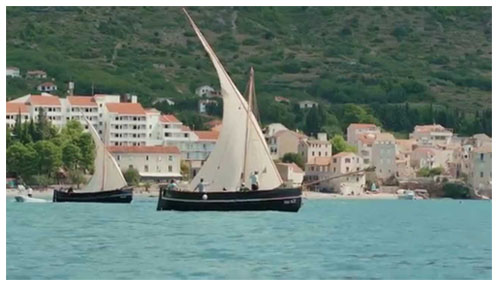 Vladimir Radaus, who lives in Sweden, recently bought the plans for the Penobscot 17. He grew up in Croatia, on the Adriatic Sea. He sent a link to a video showing traditional Croatian fishing vessels being built and under sail. They are beautiful and very interesting vessels. You can see the video here:

https://www.youtube.com/watch?v=4JIL4TZ0Fro

Thanks Vlado, and enjoy your project!

July 28, 016





Vacation Time!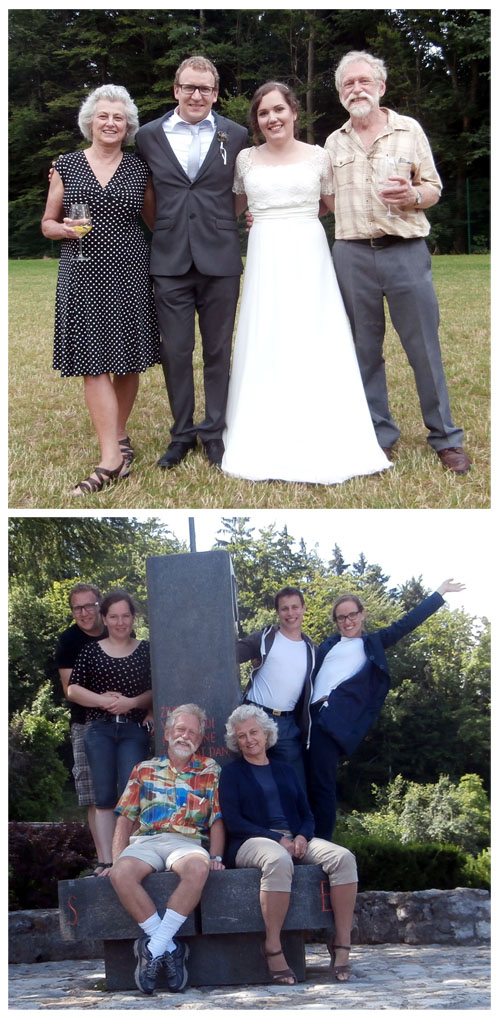 In July my wife and I will be taking a long-planned vacation in Slovenia, where she has family. I will not be able to answer questions or take orders while I am away. You can place orders or make enquiries as usual on my web site – I will take care of them as quickly as possible when I get back. We leave on Thursday, July 5, and return on Monday, July 30.

I will also be away at the Wooden Boat School in Brooklin, Maine, teaching my course on building the Penobscot 13, during the last two weeks of August, leaving on Saturday, August 18, and returning on Saturday, September 1.

I hope this doesn't cause too much inconvenience. We are very much looking forward to our trip, but I will also be looking forward to getting back to work, and answering your questions!

The top photo shows us at Anna's and Marko's wedding three years ago. Weddings are a big deal in Slovenia. This one started at three in the afternoon, and the reception was still going strong, with bands and dancing when we left at about 1:30 the next morning. I was foolish enough to ask if there was going to be music at the wedding. I counted five different groups – the choir and small orchestra in the church, a string quartet outside the church after the ceremony, and three groups at the reception. Anna and Marko are now the proud parents of a two-year-old.

May 31, 2018.






New e-mail address.
My e-mail address has changed. It is now archhdavis@gmail.com. If you have recently sent me an e-mail at the old adress on my web site, or sent a message through the "Contact Us" page on my web site, and haven't received a reply, please try again at the above address. I am normally able to respond to e-mail enquiries within 24 hours or less, so if you are waiting for a response, please try again. I lost access to the old address on April 2. Thank you for your patience.



Spring is Coming I!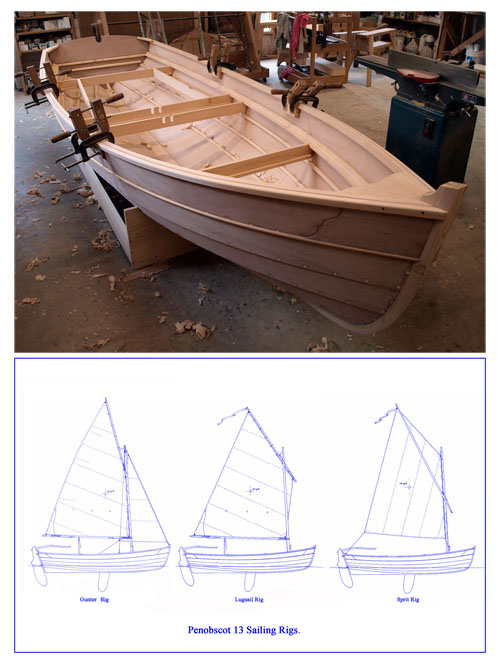 With two weeks of brutal cold and two blizzards behind us, and plenty more to come, it's time to think of spring! The Penobscot 13 in my shop is well along, and I expect to have it finished early in February. If you would like to have this boat for a spring launching, now is the time to get your order in. There probably won't be another one available before summer.

At this point there is still the opportunity to customize the boat to your preferrences. It will have a daggerboard trunk installed, but you can specify a sailing rig, with the mast step to suit. I haven't painted the boat yet, so you can also choose your own color scheme. The price is $4,450.00. You can add any of the three sailing rigs yourself, or have me do it – call for pricing.

January 12, 2018.





Spring is Coming II!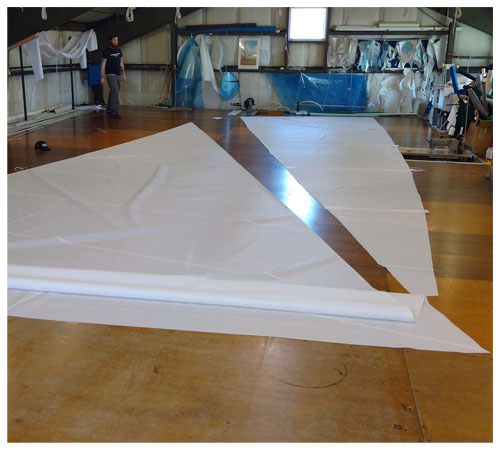 Here is a photo of the sail loft at Pope Sails and Rigging, Rockland, Maine. Note the cool way the sewing maching is installed at floor level. You can't see it very well, but there is a pit for the sailmaker to sit in while he works on the sail, which slides easily over the varnished floor through the machine. The loft has several sewing machines with pits like this.

Last year was a busy one for Doug Pope, who has been making sails for our customers for about 25 years now, and it has been a very rewarding relationship for us both. Doug's workmanship is first class, and we have benefitted greatly from his expertise.

In 2017 Doug and his team made several suits of sails for all three Penobscots, the Sand Dollar, and the Peapod, with rigging kits for many of them. We were always able to get sails out in a timely manner, usually within a couple of weeks of receiving the order. This year is shaping up to be another very busy one, so if you are planning on a spring or early summer launching, it's a good idea to get in early, and beat the rush. Maybe it will brighten a cold winter day to know that your sails are on the way!

January 12, 2018.





Condolences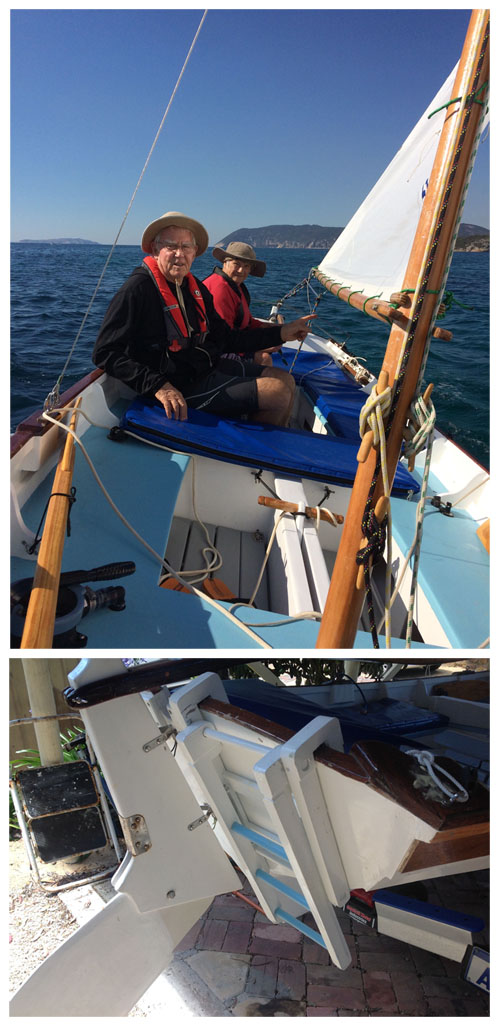 Andy Crawford's sails his Penobscot 17 in South Australian waters. SOPHIE-LAYLE appeared here a couple of years ago. Recently he sent some more photos. The top one shows Andy, with his wife at the tiller. He writes that this was the last and only voyage his wife took and she skippered for a few moments. She passed away in April 2017. Our sincere condolences to Andy on his loss.

The lower photo shows the portable and collapsible transom ladder which he devised. He reports that it clips onto the transom, fitting neatly, parallel to the transom, with a rope attached so as not to lose it during a capsize. He writes, "After having two sets of cracked ribs scrambling back into the capsized craft, one easily righted, this seventy five year old geriatric had to find a more suitable embarking method. We are in white pointer waters so the need to get back aboard is quite impelling! At the time the cracked ribs from the gunnel were irrelevant....until the next painful morning.

"As with most amateur boat builders I have modified/simplified the rigging, made a new laminated boom and boom jaws, and fitted a transom block either side of the transom centre . This is to support a 5 HP Honda long shaft outboard motor for trips when my family may want to fish rather than sail! The transom did not need to be modified, apart from fitting the two mounting blocks. These accommodate the outboard screw clamps. I took my grand daughter and her partner for a first sail, and to ensure no panic, I reefed the mainsail."

We hope Andy continues to stay away from the white pointers!

January 7, 2018.





KAREN V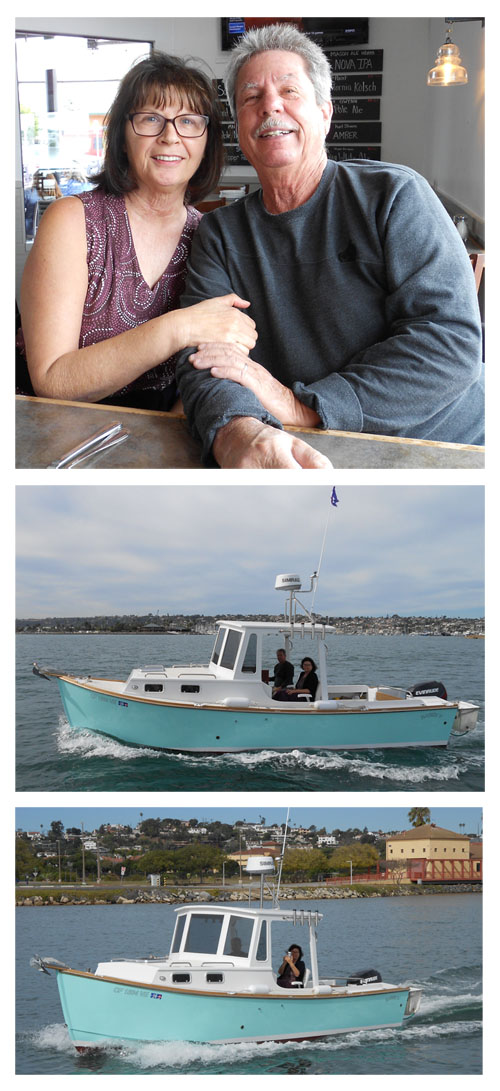 This is Alan Nephew and his wife Karen, for whom he named his Jiffy V-22.

He writes, "Arch, it is done, and we are now fishing it. I have had many boat over my life time – by far this is the best. Fully loaded with radar, auto pilot, down scan and side scan sonar, 50 gal. fuel, four T 105 Trojan 130 amp batteries." The motor is a 115 HP Evinrude giving 15 knots at 3200 RPM, 18 knots at 3600 RPM, and 26 knots at full throttle. Alan reports a fuel consumption at cruising speed of 3.7 gal/hr.

"I made little changes to your original plan – I located the water closet on the starboard side with through hull pump out capability and I doubled the side cockpit comings to 1" thickness. The boat is in a slip here in San Diego. People who come by just want to know more about the boat and the build. Thanks Arch for your support."

Alan's friend David Titus took the photos.

November 16, 2017.





An Enjoyable Project.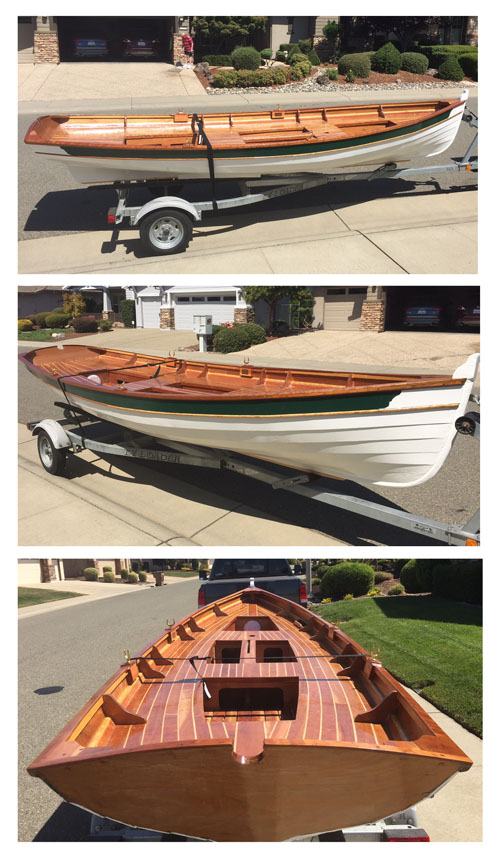 Jeff Johns, of Lincoln, CA sent these photos of his Penobscot 17.

He writes, "This boat building project has been one of the most enjoyable things I have ever done. I first questioned my ability to accomplish the task, but dove in anyhow. The plans were clear and the full size sheets made it very easy to transfer the lines on to the lumber. The manual was well written and easy to follow and the big part of this was the quick responses I got back from you to my questions. Of course I made mistakes, but I was always able to work my way out of them. Like my old Jr. High woodshop teacher told me: 'There is always more ways to skin a cat'.

My woodworking skills have improved immensely during the build including using the hand plane effectively."

As you can see, Jeff's skills obviously were equal to the job. Congratulations, Jeff.

November 10, 2017.





If you would like to see your boat featured here, send photos and a description of your project to Arch Davis Design, 37 Doak Road, Belfast, ME 04915. We would love to see them - we are always looking for good picture of boats under way!

All plans from Arch Davis Design are backed by a free advisory service. If you have a question or a problem when you are building your Arch Davis designed boat, call 207-930-9873 between 10:00 am and 4:00 pm, including weekends, for advice from the designer.