Bay Pilot 18
Length over all: 18' 0" || Waterline length: 16' 0" || Beam: 7' 3".
Draft, motor up: 0' 8" || Weight, including motor: 1,825 pounds.

The Bay Pilot 18 is a smaller boat with very much the same underbody as the Jiffy V-22, which has earned high praise from its builders for good performance and excellent sea-keeping qualities. The developed plywood bottom and built in spray rail are combined here with glued lapstrake topsides, which allow more flare to be built into the forward sections, further helping to knock down spray.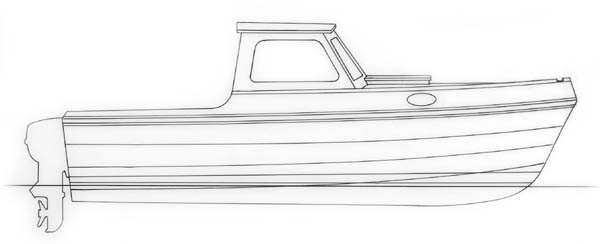 Construction uses the girder method (one each side in this boat); the hull is built upside down over a series of bulkheads and frames. The girders slot into these, for a very strong, light, egg-crate type structure. The lapstrake topsides planking is laid over fore and aft stringers. This method has proven very successful in the Penobscot 14 and 17, giving less experienced builders a way of producing very fair, tight hulls.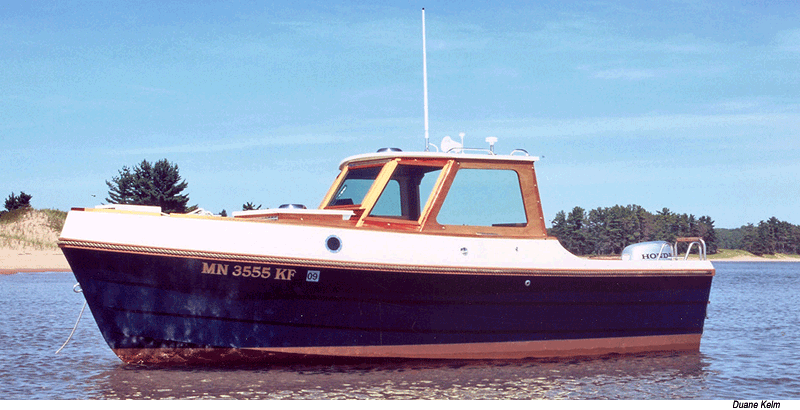 THE PLANS

The plans include nine large sheets of drawings, showing the hull at various stages of construction, full size details, cabin layout, and other information. Full size patterns, printed on Mylar, show the stem, transom, bulkheads, building frames, girders, and other items. Also included is an illustrated building manual, which takes you step by step through the building process. It includes specifications, a list of materials, sources for marine plywood, and other information.

The Bay Pilot 18 is designed for outboard motors in the 30 - 60 HP range. Materials needed consist principally of 31 - 8' x 4' sheets of marine plywood (thickness 1/4" - 3/4"), a few hundred board feet of lumber, epoxy resin and fillers, stainless steel screws, and bronze boat nails. Basic woodworking tools are needed, including a table saw and band saw. The Bay Pilot 18 is a suitable project for the builder with some woodworking experience.

The plans include drawings and instructions for the cabin cruiser and center console models show below.


WHAT YOU CAN ORDER: (Click on Boat Design and Prices Page and Order Form || Shipping costs are given on the Order Form)
STUDY PACKAGE:
Includes a 24" x 36" drawing, and a booklet with a detailed description of construction, discussion of materials, tools, etc. $12.00 + P&H. Shipping costs are given on the Order Form

PLANS:
Full size Mylar patterns, drawings, and building manual. $355.00 + P&H. Shipping costs are given on the Order Form

EPOXY KIT:
The epoxy kit comes from System Three Resins, and provides you with all the resin, hardener, fiberglass cloth, additives, measuring pumps, brushes, rollers, and other items that you will need. Please call for shipping and handling.

PLYWOOD PACKAGE:
Plywood packages include all the plywood listed in the building manual. They come from World Panel Products, Inc., Riviera Beach, Florida. Three types of plywood are available; meranti, okoume, and sapele. All are high quality, marine grade plywood. Please call for details.

To view detailed boat plans description and spec pages, select a link below
Penobscot 13 | Penobscot 14 | Penobscot 17 | 12 Foot Main Peapod | Sand Dollar | Laughing Gull | Ace 14
Grace's Tender | Jiffy V-22 | Jiffy 22 | Jiffy 9-7 | Bay Pilot 18 | Jack Tar | Grace Eileen 30 | Oar Plans